Available Price: 35.00 € 15.75 € VAT included 5.50 % : 1.82 €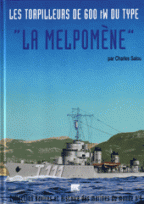 Les Torpilleurs de 600tw du type La MELPOMENE.
Release of 1/02/2004
Author:
Charles SALOU
Edition:
Collection Marines du Monde n°4
ISBN :
2-914017-22-7
DISCOUNT 50% reserved for individuals ... The Destroyers of the type 600tw the Melpomene. This very comprehensive technical work charts the history of a not very known class of torpedo-boat in service in the French Navy at the end of the Thirties. The story of each individual boat is included.
Format : A4
Pages number : 112
Pictures number : 149
Language : French
Color profiles : 0
Available Price: 15.75 €
Avions-bateaux suggestions :
Les ESCORTEURS RAPIDES.

59.00€

TTC

Les Frégates furtives type « La Fayette ».

25.00€

TTC

The French Navy during the Great War - The forgotten combattants. Volume 2

29.90€

TTC

The YAMATO Class CUIRASSES.

49.00€

TTC

The French Navy during the Great War - The forgotten combattants. Volume 1

29.90€

TTC

LES AVISOS DRAGUEURS DE 630 TW DU TYPE 'ELAN' - Tome 2.

49.00€

TTC

Les CUIRASSÉS de la Classe IOWA, Vol.2.

49.00€

TTC