Available Price: 59.00 € VAT included 5.50 % : 3.08 €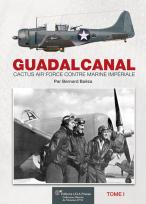 GUADALCANAL, Cactus Air Force contre Marine Impériale. Vol.01.
Release of 21/04/2015
Author:
Bernard Baeza
Edition:
Histoire de l'Aviation n°31
ISBN :
978-2-914017-83-1
No need to introduce the author, Bernard Baeza, whose reliability and sense of historical accuracy has been demonstrated through its two previous books. With Guadalcanal: Cactus Air Force against Imperial Navy, he delivers to us research work of a quality rarely achieved. The Naval Air Guadalcanal campaign is well described since startup of Operation Watchtower, in late July 1942, up turning 15 November of the same year that motivated the Japanese renunciation.
To the delight enthusiasts operational accounts, the dogfights are thoroughly described, in detail and day to day. For every encounter giving rise to confrontation, the pilots of the two camps are listed with tables that are specified wins and losses. If aeronautics is privileged, the book combines the very useful to many movements of squadrons of aircraft and personnel, all illustrated with tables of numbers and monthly losses.
It goes without saying that the historical backdrop is also approached with precision and, therefore, are not forgotten land battles and naval encounters where the stakes were-Henderson Field, Guadalcanal airfield. But the book does not only limit the fighting on the island and in the sky. The action of the Allies over the Japanese base of Rabaul and Buin, too, as are the detailed naval Battle of the Eastern Solomons and the Santa Cruz Islands.
The result is a colossal work, the first volume takes the reader from August 7 to October 10, 1942, during which the Japanese surprised by the Watchtower fishing operation and overconfident, took some time to make an accurate assessment the situation in the Solomon. In doing so, they suffered the law of a Cactus Air Force expanded yet few who contributed greatly to the failure of two attacks against land. These events and the naval Battle of the Eastern Solomons that ensued are illustrated with 700 photos, 47 color profiles and 20 illustrations "3D". Lovers will find attached a detailed comparative study of the Grumman F4F-4 and Mitsubishi A6M2 matching production figures from both units and details of their numbers and specifications to eat "three views" of all devices involved in this campaign.

Format : A4
Pages number : 384
Pictures number : 750
Language : French
Color profiles : 47
Available Price: 59.00 €
Avions-bateaux suggestions :
L'AÉROSTATION de l'Armée de l'Air - 1934-1946. Les unités, les opérations, les matériels.

29.50€

TTC

Les AÉROPLANES VOISIN

39.00€

TTC

Du Fw 190 au NC 900. Usines souterraines et blindées en France.

64.00€

TTC

SAMOURAÏ sur Porte-avions - Tome II.

59.00€

TTC

Carrier-borne SAMOURAÏ - Tome I .

55.00€

TTC

LES AVIONS BREGUET. Vol.2 - Le règne du Monoplan.

59.00€

TTC

Breguet aeroplanes Volume I - the biplane era.

59.00€

TTC