Available Price: 62.00 € 31.00 € VAT included 5.50 % : 3.23 €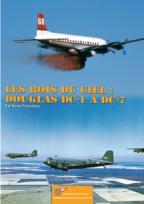 LES ROIS DU CIEL : Les Douglas DC-1 à DC-7.
Release of 10/02/2011
Author:
René Francillon
Edition:
Histoire de l'Aviation n° 27
ISBN :
978-2-914017-58-9
We still offer the Postage for all orders until February 11, 2011 ... Offer available to individuals. Rene Francillon, author of numerous books aeronautical needs no introduction to our readers. For the first time, he recounts in this book colorful history of the most famous airplanes of the American manufacturer Douglas transport aircraft piston-engine DC-1 DC-7 that made the heyday of the California firm . A superb work, lavishly illustrated with photos (many in color) and a production list.
Format : A4
Pages number : 384
Pictures number : 265
Language : French
Color profiles : 0
Available Price: 31.00 €
Avions-bateaux suggestions :
L'AÉROSTATION de l'Armée de l'Air - 1934-1946. Les unités, les opérations, les matériels.

29.50€

TTC

Les AÉROPLANES VOISIN. Rest 35 copies then out of print !

39.00€

TTC

La SAGA ETENDARD. Tome 02. Sold out!

62.00€

TTC

La SAGA ETENDARD. Tome 01. Out of print !

62.00€

TTC

Les CRUSADER FRANCAIS en action. Out of print !

60.00€

TTC

Du Fw 190 au NC 900. Usines souterraines et blindées en France. Out of print !

64.00€

TTC

SAMOURAÏ sur Porte-avions - Tome II.

59.00€

TTC