Available Price: 12.00 € VAT included 5.50 % : 0.63 €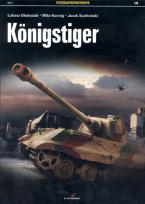 Königstiger
Release of 17/11/2014
Author:
Lukasz G?adysiak, Mike Koening, Jacek Szafranski
Edition:
KAGERO FOTOSNIPER N°0015
ISBN :
978-83-64596-23-0
Weighing nearly 70 tons Panzerkampfwagen VI Ausf. B, today better known as Königstiger (King or Royal Tiger) was the biggest mass-produced tracked combat vehicle, sent to the front-line units of the Third Reich army. This legendary vehicle, armed with long-barreled 88 mm main gun which armor reached a thickness of 180 mm from mid-1944 stirred up fear in the ranks of the armed forces of the anti-Hitler coalition, although being, as it was repeatedly proved in fact not indestructible.

This publication aims to present the history of the the King Tiger and his tactical and technical qualities, no doubt giving an advantage over the other, used in the mid-forties combat vehicles. To fully be able to show them, there were also examples of specific combat use episodes both on the Eastern Front and the West described. The whole is enriched by archival photographs and sketches of different versions of the tank, equipped with both turret variants - the Porsche and Henschel supported by a dozen reconstructed on the basis of archival materials color schemes, useful especially for modelers. Another supplement is a collection of images of Königstiger tanks exhibited in three European museums: Munster Panzer Museum in Germany, RAC Tank Museum Bovington (United Kingdom) and December 44 Museum of La Gleize (Belgium).



Format : A4
Pages number : 80
Pictures number : 120
Language : English
Color profiles : 14
Available Price: 12.00 €
Avions-bateaux suggestions :
History of the Turan medium and heavy tanks in World War II

18.00€

TTC

Pz.Kpfw. VI. Ausf.B Tiger II (Sd.Kfz.182)

19.00€

TTC

M4 Sherman (M4, M4A1, M4A4 Firefly)

19.00€

TTC

Sturmgeschütz III A, B, F, F L43, F/8, G

19.00€

TTC

German Medium Tank Panzerkampfwagen III from Ausf. H to Ausf. N

18.00€

TTC

T-34

18.75€

TTC

Panzer III Ausf. J/L/M/K

19.00€

TTC