Available Price: 14.50 € 7.25 € VAT included 2.10 % : 0.30 €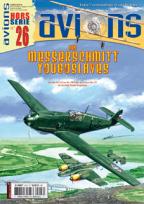 Les Messerschmitt Yougoslaves.
Release of 30/06/2009
Author:
Par Sime Ostric
Edition:
HORS SERIE AVIONS N°26
ISBN :
When the Luftwaffe fought above Yugoslavia in 1941, it came up against the Me 109s of the Royal Yugoslav Air Force. This special issue depicts their history and that of the Bf 108s and the sole Bf 110 used by this Balkan air force. Many unknown photos and colour profiles.
Format : A4
Pages number : 112
Pictures number : 287
Language : French
Color profiles : 50
Available Price: 7.25 €
Avions-bateaux suggestions :
LA 15.(Kroat.)/JG 52 SUR LE FRONT DE L'EST, 1941-1944.

17.50€

TTC

LES HYDRAVIONS DE CHASSE JAPONAIS AU COMBAT (2éme partie)

17.50€

TTC

LES HYDRAVIONS DE CHASSE JAPONAIS AU COMBAT (1e partie)

17.50€

TTC

Le Groupe de Chasse II/3. Charognards et Lévriers dans la tourmente, sept.1939-juin 1940.

17.50€

TTC

LES PERTES DES MESSERSCHMITT Me 262.

17.50€

TTC

LES AS DE L'AVIATION ISRAÉLIENNE.

17.50€

TTC

B-29 contre MIG-15 dans le ciel de Corée, ou la dernière guerre des "SUPERFORTRESSES"

17.50€

TTC