En Précommande Price: 17.50 € VAT included 2.10 % : 0.36 €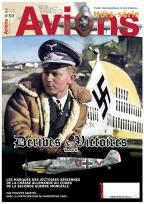 DÉRIVES & VICTOIRES - Tome II. Les marques des victoires aériennes de la chasse allemande au cours de la Seconde Guerre mondiale.
Release of 27/09/2019
Author:
Philippe Saintes, avec la participation de Christophe Cony
Edition:
HORS SERIE AVIONS N°50
ISBN :
ISSUE SEPTEMBER 27, 2019. Prefer payment by Visa / MasterCard that you will send by mail. It will not be cashed until publication. Exclusive at LELA PRESS!
Orders paid directly on the site will be with immediate debit.
A much-awaited continuation of our HS AVIONS No. 36 (unfortunately out of print), this book gives, like the previous one, a glimpse of the victories painted on the fins and rudders of day-hunting planes (Tagjagd) and night-time hunting. (Nachtjagd) German between 1939 and 1945. A practice strongly encouraged by the staffs, the Third Reich has always tried to encourage emulation among its airmen. Nineteen German chasers, including some of the Luftwaffe's most iconic pilots, are featured in this Special Series featuring no less than 185 photos - some unpublished - and 24 color profiles:
Hans Troitzsch, Johannes Gentzen, Frank Liesendahl, Wilhelm Balthasar, Otto Bertram, Joachim Müncheberg, Karl-Heinz Koch, Kurt "Kuddel" Ubben, Felix-Maria Brandis, "Fiffi" ​​Stahlschmidt, Franz-Josef Beerenbrock, Heinrich Setz, Walter "Gulle Oesau, Max-Hellmuth Ostermann, Heinrich Bartels, Fritz Dinger, Martin Drewes, Egmont zur Lippe-Weissenfeld and Ludwig Meister.
Format : A4
Pages number : 96
Pictures number : 185
Language : French
Color profiles : 24
En Précommande Price: 17.50 €
Avions-bateaux suggestions :
LA 15.(Kroat.)/JG 52 SUR LE FRONT DE L'EST, 1941-1944.

17.50€

TTC

LES HYDRAVIONS DE CHASSE JAPONAIS AU COMBAT (2éme partie)

17.50€

TTC

LES HYDRAVIONS DE CHASSE JAPONAIS AU COMBAT (1e partie)

17.50€

TTC

Le Groupe de Chasse II/3. Charognards et Lévriers dans la tourmente, sept.1939-juin 1940.

17.50€

TTC

LES PERTES DES MESSERSCHMITT Me 262.

17.50€

TTC

LES AS DE L'AVIATION ISRAÉLIENNE.

17.50€

TTC

B-29 contre MIG-15 dans le ciel de Corée, ou la dernière guerre des "SUPERFORTRESSES"

17.50€

TTC