Available Price: 17.50 € VAT included 2.10 % : 0.36 €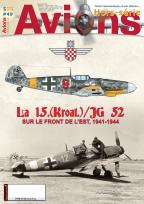 LA 15.(Kroat.)/JG 52 SUR LE FRONT DE L'EST, 1941-1944.
Release of 23/05/2019
Author:
Boris Ciglic
Edition:
HORS SERIE AVIONS N°49
ISBN :
When the troops of the Third Reich invaded the USSR in June 1941, the allies of Germany also sent troops to show their goodwill towards the "cause". Croatia, a young state created on the ruins of the Kingdom of Yugoslavia, establishes the Croatian Legion whose 4th Hunting Group will become 15. (kroat.) / JG 52. Unit integrated into the Luftwaffe, this fighter squadron goes fight for almost four years, and in sometimes precarious conditions, the Soviet air force. From these battles will be born aces and heroes; many will die, others will desert. This narrative tells the story of the rich history of this unit, the author having consulted the Croatian archives but also those of the Soviet aviation. He thus gives us his work in this Hors-Série Avions n ° 49. The photographs are abundant and supplemented by about twenty profiles color of O. Petrovic.
Format : A4
Pages number : 120
Pictures number : 220
Language : French
Color profiles : 20
Available Price: 17.50 €
Avions-bateaux suggestions :
DÉRIVES & VICTOIRES - Tome II. Les marques des victoires aériennes de la chasse allemande au cours de la Seconde Guerre mondiale.

17.50€

TTC

LES HYDRAVIONS DE CHASSE JAPONAIS AU COMBAT (2éme partie)

17.50€

TTC

LES HYDRAVIONS DE CHASSE JAPONAIS AU COMBAT (1e partie)

17.50€

TTC

Le Groupe de Chasse II/3. Charognards et Lévriers dans la tourmente, sept.1939-juin 1940.

17.50€

TTC

LES PERTES DES MESSERSCHMITT Me 262.

17.50€

TTC

LES AS DE L'AVIATION ISRAÉLIENNE.

17.50€

TTC

B-29 contre MIG-15 dans le ciel de Corée, ou la dernière guerre des "SUPERFORTRESSES"

17.50€

TTC