Available Price: 17.50 € VAT included 2.10 % : 0.36 €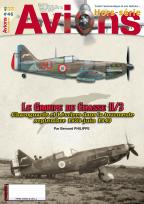 Le Groupe de Chasse II/3. Charognards et Lévriers dans la tourmente, sept.1939-juin 1940.
Release of 30/11/2017
Author:
Bernard PHILIPPE
Edition:
HORS SERIE AVIONS N°46
ISBN :
Established in 1933, fighter Group GC II / 3 was equipped with the MS.406 fighter when war broke out on 3 September 1939 and flew this aircraft throughout the entire period known as the Drôle de Guerre or Phoney War. During this period its pilots were credited with four victories. The unit was ordered to the south of France on 9 May, the day before the German offensive in the west, in order to convert onto the best fighter then in the Air Force's inventory: the Dewoitine D .520. As soon as it had re-equipped, GC II / 3 returned to the north, its pilots having barely had time to train on their new mount. The first combats took place on 21 May 1940, by which time the military situation was already critical, leading to the encirclement of British and French forces in Dunkirk. In less than a month, the pilots of GC II, supported by tireless ground crews, were responsible for the destruction of 51 enemy aircraft, 34 of which were certain victories.

Bernard Philippe relates the full story of this noted Armée de l'Air unit during a particularly dark period in French history. Gathering a collection of official and private documents collected from the families of the Group's veterans, he presents a detailed account of the campaign fought by GC II / 3 during 1939-1940.
Format : A4
Pages number : 112
Pictures number : 150
Language : French
Color profiles : 23
Available Price: 17.50 €
Avions-bateaux suggestions :
LA 15.(Kroat.)/JG 52 SUR LE FRONT DE L'EST, 1941-1944.

17.50€

TTC

LES HYDRAVIONS DE CHASSE JAPONAIS AU COMBAT (2éme partie)

17.50€

TTC

LES HYDRAVIONS DE CHASSE JAPONAIS AU COMBAT (1e partie)

17.50€

TTC

LES PERTES DES MESSERSCHMITT Me 262.

17.50€

TTC

LES AS DE L'AVIATION ISRAÉLIENNE.

17.50€

TTC

B-29 contre MIG-15 dans le ciel de Corée, ou la dernière guerre des "SUPERFORTRESSES"

17.50€

TTC

HORS-SERIE AVIONS N°42 - Out of print !

17.50€

TTC