Available Price: 17.50 € VAT included 2.10 % : 0.36 €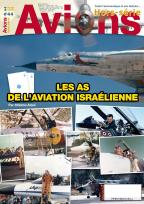 LES AS DE L'AVIATION ISRAÉLIENNE.
Release of 23/02/2017
Author:
Shlomo Aloni
Edition:
HORS SERIE AVIONS N°44
ISBN :
Israel has been at war since its creation in 1948. Air fights have not been wanting, so it is logical that they have spawned ace, pilots who have won at least five aerial victories. This Horses Series n ° 44 of AVIONS makes us thus discover the aces of this Israeli aviation, their exploits, their combats against the aviations Arab neighbors. The author has gathered an important iconography which accompanies a clear and precise text, embellished with many photographic excerpts of combats. 96 pages, 150 pictures.
Format : A4
Pages number : 96
Pictures number : 150
Language : French
Color profiles :
Available Price: 17.50 €
Avions-bateaux suggestions :
LA 15.(Kroat.)/JG 52 SUR LE FRONT DE L'EST, 1941-1944.

17.50€

TTC

LES HYDRAVIONS DE CHASSE JAPONAIS AU COMBAT (2éme partie)

17.50€

TTC

LES HYDRAVIONS DE CHASSE JAPONAIS AU COMBAT (1e partie)

17.50€

TTC

Le Groupe de Chasse II/3. Charognards et Lévriers dans la tourmente, sept.1939-juin 1940.

17.50€

TTC

LES PERTES DES MESSERSCHMITT Me 262.

17.50€

TTC

B-29 contre MIG-15 dans le ciel de Corée, ou la dernière guerre des "SUPERFORTRESSES"

17.50€

TTC

HORS-SERIE AVIONS N°42 - Out of print !

17.50€

TTC