Available Price: 19.00 € VAT included 5.50 % : 0.99 €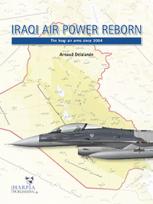 Iraqi Air Power Reborn. The Iraqi air arms since 2004.
Release of 21/04/2016
Author:
Arnaud Delalande
Edition:
HARPIA PUBLISHING
ISBN :
978-0-9854554-7-7
Iraqi Air Power Reborn provides the most authoritative account of the Iraqi air arms in the years following Operation Iraqi Freedom. In the space of over a decade since Harpia Publishing presented its groundbreaking and ever-popular Iraqi Fighters, the Iraqi Air Force has undergone an unprecedented transformation. Having been almost entirely decimated by coalition air strikes in 2003, and during the insurgency that followed, Baghdad has set about rebuilding its air power from scratch.
This book summarises the history of the Iraqi Air Force and its various incarnations until 2003 before detailing the efforts to establish a new-look Air Force, which began with training formations, before
adding transport and reconnaissance squadrons, and finally attack and fighter squadrons. Coverage also extends to Iraqi Army Aviation, and its various transport, special operations, armed reconnaissance and attack squadrons, as well as the latest air operations against the so-called Islamic State.
Format : A4
Pages number : 80
Pictures number : 56
Language : English
Color profiles : 3
Available Price: 19.00 €
Avions-bateaux suggestions :
Flashpoint Russia. Russia's Air Power : Capabilities and Structure.

24.95€

TTC

Modern Chinese Warplanes. Chinese Army Aviation - Aircraft and Units.

20.95€

TTC

Modern Chinese Warplanes. Air Force - Aircraft and Units.

38.95€

TTC

EMB-314 Super Tucano - Brazil's turboprop success story continues

19.00€

TTC

Modern Chinese Warplanes - Naval Aviation - Aircraft and Units

19.00€

TTC

Carrier Aviation in the 21st Century, Aircraft carriers and their units in detail.

35.95€

TTC

EMB-312 Tucano, Brazil's turboprop success story.

35.95€

TTC