Available Price: 19.00 € VAT included 5.50 % : 0.99 €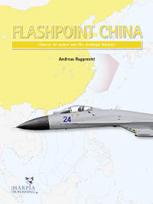 Flashpoint China, Chinese air power and regional security.
Release of 21/04/2016
Author:
Andreas Rupprecht
Edition:
HARPIA PUBLISHING
ISBN :
978-0-9854554-8-4
From the South China Sea to the mountains of Nepal, the continued economic rise of the People's Republic of China has led to a dramatic shift in the balance of power in the region. As a result, the relationship between China and its neighbours, as well as with the United States and its allies, has become increasingly important for the future of the region – and for the rest of the world.
One of the first books in an all-new format from Harpia Publishing, this uniquely compact yet comprehensive work provides a richly illustrated, in-depth analysis and overview of the most important conflicts in which China is currently involved – and those that it is likely to be involved with in the future – with a particular focus on regional air power and respective balances of strength.
Format : A4
Pages number : 80
Pictures number : 68
Language : English
Color profiles : 3
Available Price: 19.00 €
Avions-bateaux suggestions :
Flashpoint Russia. Russia's Air Power : Capabilities and Structure.

24.95€

TTC

Modern Chinese Warplanes. Chinese Army Aviation - Aircraft and Units.

20.95€

TTC

Modern Chinese Warplanes. Air Force - Aircraft and Units.

38.95€

TTC

EMB-314 Super Tucano - Brazil's turboprop success story continues

19.00€

TTC

Modern Chinese Warplanes - Naval Aviation - Aircraft and Units

19.00€

TTC

Carrier Aviation in the 21st Century, Aircraft carriers and their units in detail.

35.95€

TTC

EMB-312 Tucano, Brazil's turboprop success story.

35.95€

TTC