Available Price: 35.95 € VAT included 5.50 % : 1.87 €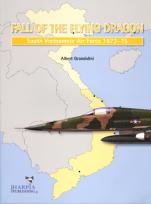 Fall of the Flying DRAGON. South Vietnamese Air Force 1973-75.
Release of 1/10/2011
Author:
Albert Grandolini
Edition:
HARPIA Publishing
ISBN :
Compiled with extensive help from previously unavailable documents that have emerged from official Vietnamese archives, and also with the assistance of narratives from dozens of participants and eyewitnesses, this volume reveals that air warfare over Vietnam did not end when the US pulled out of Southeast Asia.

256 pages with 294 black and white pictures, 117 colour pictures, 1 map and 30 colour drawings.
Format : 21X28
Pages number : 256
Pictures number : 411
Language : English
Color profiles : 30
Available Price: 35.95 €
Avions-bateaux suggestions :
Flashpoint Russia. Russia's Air Power : Capabilities and Structure.

24.95€

TTC

Modern Chinese Warplanes. Chinese Army Aviation - Aircraft and Units.

20.95€

TTC

Modern Chinese Warplanes. Air Force - Aircraft and Units.

38.95€

TTC

Modern Chinese Warplanes - Naval Aviation - Aircraft and Units

19.00€

TTC

EMB-314 Super Tucano - Brazil's turboprop success story continues

19.00€

TTC

EMB-312 Tucano, Brazil's turboprop success story.

35.95€

TTC

Carrier Aviation in the 21st Century, Aircraft carriers and their units in detail.

35.95€

TTC