Available Price: 39.90 € VAT included 5.50 % : 2.08 €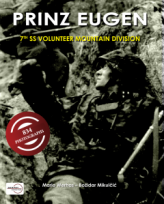 PRINZ EUGEN - 7TH SS VOLUNTEER MOUNTAIN DIVISION
Release of 30/01/2018
Author:
Mario Werhas - Bozidar Mikulcic
Edition:
DESPOT INFINITUS
ISBN :
978-953-7892-96-8
The 7th SS Mountain Volunteer Division Prinz Eugen was a mountain infantry unit of the Waffen-SS, comprised mainly of the Volksdeutsche (ethnic Germans from outside the Reich) from German-occupied Serbia, the Independent State of Croatia, Hungary, and Romania.

This book tells the story of the unit from its formation to its final days, and is equipped with 834 exclusive photographs, most of which have never been published before. These rare photographs are a powerful visual testimony of war, allowing the reader to truly grasp the harsh reality of World War II in the Balkans. This book is both a meticulous analysis of the military operations the division participated in and a stunning photographic record, making it essential reading for anyone interested in one of the most notorious divisions of the Waffen-SS, and World War II in general.
Format : 23 X 28
Pages number : 206
Pictures number : 834
Language : English
Color profiles :
Available Price: 39.90 €
Avions-bateaux suggestions :
THE USTASHA ARMY 1941 - 1945. Reissue

49.90€

TTC

"HANDSCHAR" - 13TH SS MOUNTAIN DIVISION.

39.90€

TTC

The Allied Armoured Units in the Southeastern Europe during the WWII.

49.90€

TTC

Armoured Units of the Axis Forces in Southeastern Europe in WWII

45.00€

TTC