Available Price: 49.90 € VAT included 5.50 % : 2.60 €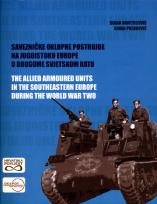 The Allied Armoured Units in the Southeastern Europe during the WWII.
Release of 30/11/2016
Author:
Bojan Dimitrijevic & Dinko Predoevic
Edition:
DESPOT INFINITUS
ISBN :
978-953-7892-61-6
The success of the previous book on the Axis ar­mour in the Southeastern Europe, in the respected series, entitlled the Croatian History, published by Zagreb-based Despot Infinitus publishing house in 2015, was a milestone for this endeavour. This time, it was the Allied armour that was used in the same theatre. The term South-Eastern Europe encircles the area once known as Yugoslavia. By the Allies and do­mestic resistance movements, it was also perceived as one theatre, occupied by the different Axis armies. This theatre was, with no doubt, secondary compa­ring to the others in Europe, and waging its strategic importance and devotion of the main players to de­ploy first class units and equipment. But, the num­ber of the armies and the variety of types used make it utterly interesting for all those who are keen ent­husiasts on the World War Two armoured warfare.

The authors' main motive was to present the results of their continuous research on this subject to the wi­der audience, which lasted for several decades. This interest produced the coherent picture of the events and details that are in the book. The authors presen­ted the armoured forces of the Allied forces deployed in this part of the Europe, as well as the resistance during the Second World War. In the already known general framework of the events, we added the less known details of the armoured forces, their usage, with a possibility for a wider research in different di­rections. The stories of the Royal Yugoslav, Partisan, Soviet, Bulgarian, British and New Zealand armo­ured forces are lined in the chronological order up, as they appeared in the timeline of the War. There are no ideological comments of any kind, and the book concentrates on the armoured vehicles, their crews and the way how they waged the war with it. This book, combined with the previous one, on the Axis armour, makes a complete history of the armoured warfare in the Southeastern Europe between 1941 and 1945.

The photos gathered in this volume are collected during the long lasting process of the authors' inte­rest all over the former Yugoslavian region; in many cases, with the hardships of different kind, such as the distances or the financial costs. This selection of around 350 photos is the authors' choice of the larger gathered material. We were guided by the intention to present the recent discoveries, coupled with the standard photos that were known for years, in order to produce the selection of the photo materials that would attract the audience from the region, as well as the others interested in the armour in the Southe­astern Europe.
Format : 23 x 28
Pages number : 248
Pictures number : 350
Language : English / Croatian
Color profiles :
Available Price: 49.90 €
Avions-bateaux suggestions :
THE USTASHA ARMY 1941 - 1945. Reissue

49.90€

TTC

"HANDSCHAR" - 13TH SS MOUNTAIN DIVISION.

39.90€

TTC

PRINZ EUGEN - 7TH SS VOLUNTEER MOUNTAIN DIVISION

39.90€

TTC

Armoured Units of the Axis Forces in Southeastern Europe in WWII

45.00€

TTC