Available Price: 26.00 € VAT included 5.50 % : 1.36 €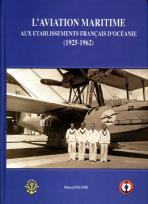 L'AVIATION MARITIME aux établissements Français d'Océanie (1925-1962).
Release of 1/06/2015
Author:
Marcel Bauer
Edition:
ARDHAN N°35
ISBN :
978-2-913344-25-9
By studying the history of aviation in the French maritime establishments of Oceania, one is quickly confronted with two realities. First, the environment and history of the Polynesian people, and adventure of aviation pioneers in Oceania, are little or no known "Popa'a Farani".

Second, the epic of aero FNFL sailors and airmen FAFL during the Second World War, which allowed the Polynesian people to exist in the nation, has not generated many attractions of Camaguey from "Mama Farani" the Motherland. Historians have focused on the adventure of the Pacific Battalion.

Passionate about local history, the author met during 48 years of presence in the territory, these forgotten neglected by the new generations, in order to collect their testimonies. It was at their request that he wrote this book, thinking it is still time to recover her memory and revive the "Tamari'i Manureva" ...
Format : A4
Pages number : 224
Pictures number : 346
Language : French
Color profiles : 13
Available Price: 26.00 €
Avions-bateaux suggestions :
LA BASE D'AÉRONAUTIQUE NAVALE DE BERRE (1919-1972)

50.00€

TTC

L'Aéronautique maritime dans la Grande Guerre.

29.00€

TTC

Capitaine de Corvette Robert Giraud (1899-1940). Dit le Bon-Gi, marin et pilote mort pour la France.

21.00€

TTC

Les formations d'Hélicoptères de l'Aéronautique Navale - 2.

45.00€

TTC

VOL AU VENT MARIN. Un regard sur l'histoire de l'Aéronautique Navale.

42.00€

TTC

Les formations d'Hélicoptères de l'Aéronautique Navale - 1.

45.00€

TTC

La Base d'Aeronautique Navale de Port-Lyautey (1919-1962)

30.00€

TTC