Available Price: 38.00 € VAT included 5.50 % : 1.98 €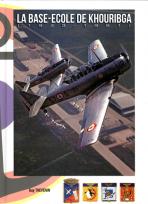 LA BASE-ECOLE DE KHOURIBGA. 1943-1961.
Release of 12/12/2014
Author:
Guy THEVENIN
Edition:
ARDHAN N°34
ISBN :
978-2-913344-24-2
1945 - The French aerospace industry battered fate of five years of war. Despite the contribution of foreign equipment, aircraft starved to reset our air forces including Naval Aviation. But the lack of drivers is also important and it is urgent to organize the training. Moreover, a large number of licensed pilots before the conflict has not acceded to a cockpit for several years and it is necessary to hand over quickly "foot rudder."

This book traces, as far as the records and the testimony could afford it, the ups and downs of the trainees who succeeded in KG-1 October 1948 KG-60D December 1960, not to mention monitors. The trainees in the period 1945-1948 are also mentioned.

When the disparate hardware used throughout the base period of activity, it is subject to careful matching descirption twelve sheets of colored profiles.
Format : A4
Pages number : 364
Pictures number : 350
Language : French
Color profiles : 12
Available Price: 38.00 €
Avions-bateaux suggestions :
LA BASE D'AÉRONAUTIQUE NAVALE DE BERRE (1919-1972)

50.00€

TTC

L'Aéronautique maritime dans la Grande Guerre.

29.00€

TTC

Capitaine de Corvette Robert Giraud (1899-1940). Dit le Bon-Gi, marin et pilote mort pour la France.

21.00€

TTC

Les formations d'Hélicoptères de l'Aéronautique Navale - 2.

45.00€

TTC

VOL AU VENT MARIN. Un regard sur l'histoire de l'Aéronautique Navale.

42.00€

TTC

Les formations d'Hélicoptères de l'Aéronautique Navale - 1.

45.00€

TTC

La Base d'Aeronautique Navale de Port-Lyautey (1919-1962)

30.00€

TTC