Available Price: 40.00 € VAT included 5.50 % : 2.09 €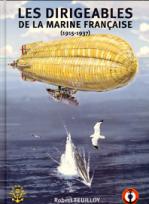 Les DIRIGEABLES de la Marine Française. 1915-1937.
Release of 1/03/2009
Author:
Robert FEUILLOY
Edition:
ARDHAN N°24
ISBN :
The offensive of the German submarines in 1915, the Navy decided to employ a fleet of blimps to fight against their attacks. This book traces the history of airships armed by the French Navy from December 1915 to September 1937. The first part seeks to describe the individual careers of each of the 74 airships. By 1917, France plans to build rigid airships, largely inspired by the Zeppelin which some copies were stranded on the English and French territories, and the first of them is under construction occurs when the Armistice. The advent of peace is a halt to these ambitious projects. France receives in 1920 and 1921, as part of war reparations, three Zeppelin which two are assigned to the Navy, the third being demolished by the Technical Unit of Aeronautics. The first, renamed Diksmuide, is immobilized three years, then performs some remarkable ascents before disappearing tragically in December 1923. The 1930s saw the emergence of new airships built by Zodiac, but they are built in small quantities and accidents are questioning the usefulness of airships for the Navy who finally decides to disarm them in 1937. The second part deals with centers of airships, their infrastructure and their operation. Thirteen home ports were progressively installed along the French coast and in North Africa and even in Greece, Corfu. Few survive the end of the Great War and Rochefort will be the last in service. The third part deals with the last staff. This culminated in November 1918, more than 2500 men with more 300 flying. The author has worked for twenty years to find the pilot of airships, all now extinct, and their families, to establish the 222 individual biographies.
Format : A4
Pages number : 519
Pictures number : 700
Language : French
Color profiles : 11
Available Price: 40.00 €
Avions-bateaux suggestions :
LA BASE D'AÉRONAUTIQUE NAVALE DE BERRE (1919-1972)

50.00€

TTC

L'Aéronautique maritime dans la Grande Guerre.

29.00€

TTC

Capitaine de Corvette Robert Giraud (1899-1940). Dit le Bon-Gi, marin et pilote mort pour la France.

21.00€

TTC

Les formations d'Hélicoptères de l'Aéronautique Navale - 2.

45.00€

TTC

VOL AU VENT MARIN. Un regard sur l'histoire de l'Aéronautique Navale.

42.00€

TTC

Les formations d'Hélicoptères de l'Aéronautique Navale - 1.

45.00€

TTC

La Base d'Aeronautique Navale de Port-Lyautey (1919-1962)

30.00€

TTC