Rupture, en attente de réapprovisionnement Price: 28.00 € 14.00 € VAT included 5.50 % : 1.46 €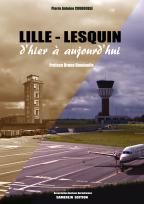 LILLE-LESQUIN, d'hier à aujourd'hui.
Release of 1/12/2014
Author:
Pierre-Antoine COUROUBLE
Edition:
Association Anciens Aérodromes
ISBN :
978-2-9551013-0-8
Reserve Flughaffen Lesquin "in 1917," Seclin Enchemont Aerodrome "in 1937," Lille Air Base "in 1938," Lille-Seclin Airfield "in 1939," Flugplatz Vendeville "from 1940 to 1944," Airfield B-51 "in 1944-45 ... The Lille-Lesquin airfield has known many names and avatars before becoming the international airport we know today.

In this book, a century of thrilling history (1913-2013) is traced over the pages that report a historical epic transformed into a business challenge and a real economic challenge for Nord-Pas-de-Calais. A book of synthesis that exploits archival documents, for some unpublished, and brings back numerous testimonies of time that enrich hundreds of illustrations. A fascinating story about an airfield whose tarmac will be trodden after the military, by millions of users and famous personalities ...
Format : 15 X 21
Pages number : 512
Pictures number : 350
Language : French
Color profiles :
Rupture, en attente de réapprovisionnement Price: 14.00 €
Avions-bateaux suggestions :
ATLAS PAS DE CALAIS

14.00€

TTC

CREIL. Du champ d'Aviation à la Base de Défense.

14.00€

TTC

ATLAS NORD - Military Airfields. First World War.

15.00€

TTC

MERVILLE-CALONNE. Nouvelle Édition ! Histoire d'une ancienne base aérienne militaire.

12.00€

TTC

ATLAS AISNE

15.00€

TTC

ATLAS MEUSE

12.00€

TTC

ATLAS OISE

10.00€

TTC