Available Price: 12.00 € VAT included 5.50 % : 0.63 €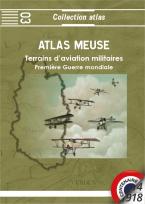 ATLAS MEUSE
Release of 10/05/2016
Author:
Lionel Luttenbacher & Jean-Marie Picquart
Edition:
Collection ATLAS
ISBN :
9-782919-5720-09-0
Before the Great War, only three airfields had been built in the Meuse departement, near the three main cities of Bar-le-Duc, Commercy and Verdun. This last town also had a special airfield used for military baloons.
During the war, nearly one hundred airfields were built by the various fighting nations. Today, all have disappeared and have been nearly forgotten.
There were two major war events in the Meuse : the battle for Verdun in 1916-1917 and the fightings by the first US troops in 1918.
A very nice volume which is of interest to every WW1 fan and historian !
Format : 17X24
Pages number : 116
Pictures number :
Language : French
Color profiles :
Available Price: 12.00 €
Avions-bateaux suggestions :
CREIL. Du champ d'Aviation à la Base de Défense.

14.00€

TTC

ATLAS PAS DE CALAIS

14.00€

TTC

ATLAS NORD - Military Airfields. First World War.

15.00€

TTC

MERVILLE-CALONNE. Nouvelle Édition ! Histoire d'une ancienne base aérienne militaire.

12.00€

TTC

ATLAS AISNE

15.00€

TTC

ATLAS OISE

10.00€

TTC

MULHOUSE - HABSHEIM

10.00€

TTC