Available Price: 26.00 € VAT included 5.50 % : 1.36 €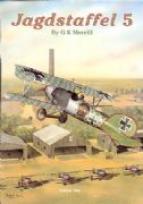 Windsock Specials - Jagdstaffel 5. Volume 1
Release of 11/03/2004
Author:
G. K. MERRILL
Edition:
ALBATROS PRODUCTIONS
ISBN :
1-902-207-67-X
The full story of Jasta 5, one of Germany's crack air units in WWI, is related in graphic and meticulous detail by Glen Merrill. Supported by many large-format photos, many b/w sketches and all-new colour art by Robert Karr, Bob Pearson and Ray Rimell, many 'well-known' Jasta 5 fighters appear here in revisionist artwork for the first time - Flashar's dragon-marked D.V; Rumey's striped Albatrosse and the enigmatic D.III of Werner Voss, plus many more. For modellers of Albatros D.IIIs and D.Vs, Fokker Triplanes and D.VIIs, there's enough colour data here to keep them going for years!

Volume One contains 56 packed pages (inc. covers) featuring Jasta 5 history; pilot careers, combat details and colour data with over 60 photos and 11 colour pages profiling more than 30 Albatros D.III and D.V aircraft - many wing and full plan views also appear. The book also includes over 30 mono sketches of Fokker E.II, Halberstadt, Roland and Albatros D.II fuselage markings. Stunning cover art by Robert Karr and Bob Pearson depict the striped and chequered aircraft of Fritz Rumey.

Format : A4
Pages number : 56
Pictures number : 60
Language : English
Color profiles : 30
Available Price: 26.00 €
Avions-bateaux suggestions :
Building the Wingnut Wings N°9 - HALBERSTADT CL.II

31.00€

TTC

Building the Wingnut Wings N°8 - HANNOVER CL.II

29.50€

TTC

BUILDING THE WINGNUT WINGS : THE DOLPHIN AND PFALZ D.IIIA.

30.00€

TTC

BUILDING THE WINGNUT WINGS : JUNKERS D.I

30.00€

TTC

BUILDING THE WINGNUT WINGS : GOTHA G.IV. Reissue !

32.00€

TTC

BUILDING THE WINGNUT WINGS : SOPWITH CAMELS (&LVG C.VI)

31.00€

TTC

Windsock Datafile - 174 - PFALZ D.IIIA AT WAR ! Vol.2

16.00€

TTC