Available Price: 19.00 € VAT included 5.50 % : 0.99 €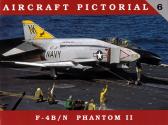 F-4B/N Phantom II
Release of 30/10/2014
Author:
Pete Clayton
Edition:
AIRCRAFT PICTORIAL N°06
ISBN :
Pete Clayton, CDR USN (Ret) is one of the leading authorities on this topic of US Navy aircraft and a major contributor to the US Navy Tailhook Association Newsletter. He has put together a photo history of the F-4B & N variants from their initial years of service, through the end of their career. Covered are images of all Air Groups/Wings, including US Marine Corps variants, with 142 images, in this full color book. Most images are from private collections, never before in print, and an excellent source for those looking for marking and identification information on this aircraft. Never before have so many color photos of the F-4 Phantom II be published in one book.

This book contains 120 color photos, 22 black & white images, including the covers of this 72 page softbound book.
Format : 27.5x21
Pages number : 72
Pictures number : 142
Language : English
Color profiles :
Available Price: 19.00 €
Avions-bateaux suggestions :
Aircraft Painting Guide Vol.1.

20.00€

TTC

F4U-1 Corsair Vol. 2

19.00€

TTC

F4U-1 Corsair vol.1

19.00€

TTC

P-40 WARHAWK EARLY VERSIONS

18.00€

TTC

F4F WILDCAT

18.00€

TTC

OS2U KINGFISHER

18.00€

TTC

SB2U VINDICATOR

18.00€

TTC