Available Price: 38.00 € VAT included 5.50 % : 1.98 €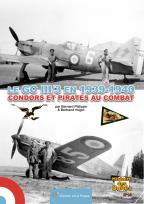 Le GC III/3 en 1939-1940. Condors et Pirates au combat.
Release of 15/05/2019
Author:
Bernard Philippe & Bertrand Hugot.
Edition:
Collection Histoire des Unités n°13.
ISBN :
978-2-37468-020-0
Created in the spring of 1939, the hunting group III / 3 will hardly have the time to train that the declaration of war will make him leave Burgundy to join his field of campaign. A tragedy during this transfer will amputate the group of 6 of its pilots, killed or seriously injured. Reconstituted at Salon-de-Provence, the III / 3 wins the East of France and will spend the Funny War in Ochey (Meurthe-et-Moselle). Their first success of September 30, 1939 boosts their morale, but the missions that will follow until April will remain mostly escorts of reconnaissance and surveillance aircraft. The arrival of Captain Richard in January 1940 at the head of the group brings a new state of mind but his premature death shortly before the shock of May 10, 1940 could be one of the causes of its relative discretion "media". And yet, his successes (and losses) won in Belgium or Picardy aboard Morane before being transformed squadron squadron on Dewoitine 520, rank 11th for the number of victories. The GC III / 3 managed to pass in AFN but was dissolved in August 1940 after 482 days of existence.
Although few official documents have survived to this day, the authors can tell this story through a wonderful archive kept in families. We invite you to discover the history of this unit of the Air Force and its airmen through these 208 pages, 300 photos, 4 maps, 27 profiles of Yann Le Gal.

Format : A4
Pages number : 208
Pictures number : 300
Language : French
Color profiles : 27
Available Price: 38.00 €
Avions-bateaux suggestions :
La Stukageschwader 2 'Immelmann'. Tome 02

35.00€

TTC

La Lehrgeschwader 1, l'Escadre au Griffon. Tome 02

43.00€

TTC

La Jagdgeschwader 54 : Les Aigles au 'coeur vert' de la Luftwaffe. Tome 02.

49.00€

TTC

Le III./Zerstörergeschwader 26 - 1939/1944. Out of print

35.00€

TTC

Le 350 (Belgian) Squadron. Out of print !

39.00€

TTC

La Stukageschwader 2 'Immelmann'. Tome 01

39.00€

TTC

Le GC 1/55. La dernière garde gouvernementale. 1940.

36.00€

TTC