Not available Price: 35.00 € VAT included 5.50 % : 1.82 €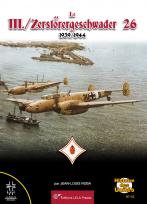 Le III./Zerstörergeschwader 26 - 1939/1944. Out of print
Release of 9/01/2020
Author:
Jean-Louis ROBA
Edition:
Collection Histoire des Unités n°12.
ISBN :
978-2-37468-025-5
It may seem surprising in the context of an air unit history to detach a group from its squadron. However, the III./ZG 26, which started the Second World War on Bf 109, had a very independent career. Having received twin BF 110s during the Funny War, the unit was largely engaged in 1940 in the west and on England. Released at the end of 1940, like all Zerstörer groups, the III./ZG 26 was sent to the Mediterranean in early 1941, where his heavy fighters mainly supported the advance of the Afrika Korps while escorting ships supplying the German Army. Africa. In 1943, after the fall of Tunisia and facing the numerical superiority of Allied aviation, the III./ZG 26 returned to Germany to be thrown into the bloody fighting of the Reichsverteidigung. The Bf 110 were decimated and the unit was dissolved in mid-44. A 176-page book with 380 photos and 28 color profiles.

NEWSPAPER :
- Log of campaign and campaign of a unit of the Luftwaffe, one more you will tell me except that the III./26 made and it is very rare thing, all his career from 1939 to 1944 year when it was dissolved for lack of personal, decimated above the dying reich, its ME-110 being then completely obsolete and overwhelmed by the material of the hyper-equipped and over-elated allies.
The talented (the word is weak when we know the talent of the author!) Jean-Louis Roba has opened and reconstituted page by page and almost day after day, the hours of glory and the dark hours of a very singular unity which flew for 90% of the time on a plane with an innovative concept at its beginnings but which was totally exceeded the Me / Bf 110, a twin-engine of a certain elegance but under-motorized and under-equipped, which does not detract from the courage and recklessness of its crews and technical personnel, on the contrary, because they were involved on almost all fronts ...
Excellent reference work, widely illustrated with something very rare in many color photos and written with great rigor as to the descriptions of the facts ... Book for enthusiasts of aerial stories of the second war but which is also intended for model makers always eager for new subjects to deal with ..
Fleuves & Canaux - Marc Debeer.
- The III / ZG26 is a unit apparently well known by the many color photos published during its detachment in the Mediterranean ... But did you know that it had been incorporated on Arado 68 and will end its days in Defense of the Reich with Me 110 G equipped with Dodel after using Me 410?
The author makes us discover the unit and its men during the crossing of the war with numerous testimonies, and very many unpublished photos (380 photos including 29 in color). Three maps allow you to geographically follow the action, a very good point often forgotten.
There are numerous appendices including the list of losses and the list of aircraft identified as having been part of the unit.
Let's not forget also the 28 beautiful profiles of Thierry Dekker, generally, as always in Lela-Presse publications, supported by convincing photos.
As a model maker, I regret that no chapter or appendix brings up the question of marks and camouflage which seems to have been complex when we see planes with European camouflage alongside uniformly yellow aircraft (RLM79?) Without counting those " with polka dots "(p.93) or which appear retouched sand on European camouflage (p.84).
Conclusion: a beautiful book with excellent iconographic coverage that can only stimulate the enthusiasm of the model makers ... and others. The large number of annexes is a plus!
© Modelstories 2020
Format : A4
Pages number : 176
Pictures number : 380
Language : French
Color profiles : 28
Not available Price: 35.00 €
Avions-bateaux suggestions :
La Stukageschwader 2 'Immelmann'. Tome 02

35.00€

TTC

La Lehrgeschwader 1, l'Escadre au Griffon. Tome 02

43.00€

TTC

La Jagdgeschwader 54 : Les Aigles au 'coeur vert' de la Luftwaffe. Tome 02.

49.00€

TTC

Le GC III/3 en 1939-1940. Condors et Pirates au combat.

38.00€

TTC

Le 350 (Belgian) Squadron. Out of print !

39.00€

TTC

La Stukageschwader 2 'Immelmann'. Tome 01

39.00€

TTC

Le GC 1/55. La dernière garde gouvernementale. 1940.

36.00€

TTC