Available Price: 36.00 € VAT included 5.50 % : 1.88 €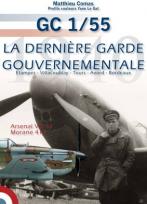 Le GC 1/55. La dernière garde gouvernementale. 1940.
Release of 29/03/2018
Author:
Matthieu COMAS
Edition:
Collection Histoire des Unités n°03.
ISBN :
978-2-37468-008-8
For the first time is updated the complete history of the 1/55 hunting group in May-June 1940.
200 pages to discover his extraordinary career. The constitution of DAT patrols of Etampes, Tours, Avord and Bordeaux, the withdrawal of the base Villacoublay and the commissioning of the Arsenal VG-33, its installation in Bordeaux in protection of the government and finally its withdrawal In Toulouse...
The whole of its activity is detailed from day to day thanks to numerous testimonies and documents of time totally unpublished.
Two files complete this book: one devoted to Morane-Saulnier 410, the other to the entire series of VG 33.
The whole is completed with 47 color profiles of Yann LE GAL made with the greatest precision: Morane-Saulnier 406 and 410, Arsenal, Bloch 151,152 and 155 ...
Erratum: The author, Matthieu Comas, has noted some errors, here the patches.
- Page 2: read Berzé-la-Ville
- Photo page 46 at the top: it's about Orleans
- Photo page 82: The Bloch 151 "3" white is the number 420
- Photo page 86 below: photo credit Michel Debever
- Profile Potez 63.11 n ° 247 page 89: the fuselage '4' should be open
- Page 102: the circles are off
- Photo H-75 page 136: the photo is taken at Le Bourget
- Page 138: Corrected page (pdf visible on the right).
Format : A4
Pages number : 200
Pictures number : 200
Language : French
Color profiles : 47
Available Price: 36.00 €
Avions-bateaux suggestions :
La Stukageschwader 2 'Immelmann'. Tome 02

35.00€

TTC

La Lehrgeschwader 1, l'Escadre au Griffon. Tome 02

43.00€

TTC

La Jagdgeschwader 54 : Les Aigles au 'coeur vert' de la Luftwaffe. Tome 02.

49.00€

TTC

Le III./Zerstörergeschwader 26 - 1939/1944. Out of print

35.00€

TTC

Le GC III/3 en 1939-1940. Condors et Pirates au combat.

38.00€

TTC

Le 350 (Belgian) Squadron. Out of print !

39.00€

TTC

La Stukageschwader 2 'Immelmann'. Tome 01

39.00€

TTC