Available Price: 39.00 € VAT included 5.50 % : 2.03 €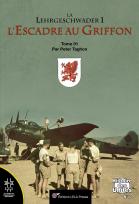 La Lehrgeschwader 1, the Griffon Geschwader. Vol.01
Release of 10/11/2017
Author:
Peter TAGHON
Edition:
HISTOIRE DES UNITÉS 07
ISBN :
978-2-37468-003-3
Lehrgeschwader 1 (Experimental or 'demonstration' Bombing Wing 1) was one of the first units established in the new Luftwaffe shortly after 1933. Primarily equipped with the He 111 at the outbreak of the Second World War the unit was multi-purpose, deploying a Gruppe of Bf 110 Zerstörer and another of Ju 87 Stukas. It took an active part in the first Luftwaffe campaigns (Poland, Norway, France ...) before being re-equipped with Ju 88 bombers, which it retained exclusively until 1945. Deployed early on in the Mediterranean, LG 1 would immediately prove to be one of the most formidable and feared opponents of the Royal Navy. Under the orders of Kommodore Helbig, the Helbig flyers as they were dubbed were responsible for sending many allied ships to the bottom. Notable actions included the sinking of three large transport vessels Clan Campbell, Clan Chattan and Rowallan Castle from the convoy MW 9, during attacks on 13–14 February 1941. III./LG 1 also damaged the Australian destroyer Waterhen on 9 July 1941, sinking it on 11 July. The Geschwader supported the Afrikakorps effectively in Libya and Egypt until 1942. Bombing raids were made on the Suez Canal, Cairo during this time.
On 11/12 May 1942 I.(K)/LG 1 again led by Helbig were responsible for sinking HMS Kipling, HMS Jackal and HMS Lively in the Gulf of Sollum. This Volume I is a new updated French-language edition of Peter Taghon's original German study with additional text and photos by acknowledged Luftwaffe expert Jean-Louis Roba. Volume 1 describes in detail the first years of combat of LG 1, the text being fleshed out with numerous rare personal accounts.
(Translated by Neil Page)
Peter Taghon was born in Ghent on February 10, 1960. Married to Peggy, he is the father of Thomas. From his youth, he was very interested in the events of the Second World War. After studying law, he wrote the history of the campaign of May 1940 in his hometown, thus obtaining very close contacts with veterans of both camps as well as an important photographic material. This allowed him to illustrate largely two works composed mainly of original plates: 'Belgium May 1940' and 'Belgium 1944'. This resulted in extensive research into the air war in Belgium during the Second World War. He thus published in Lela Presse 'The Belgian military aeronautics in May-June 1940' which remains a work of references. Meanwhile, veterans of the Lehrgrschwader 1 persuaded him to write the chronicle of their squadron and it was thanks to their support that this task was carried out.
Format : A4
Pages number : 224
Pictures number : 530
Language : French
Color profiles : 31
Available Price: 39.00 €
Avions-bateaux suggestions :
La Stukageschwader 2 'Immelmann'. Tome 02

35.00€

TTC

La Lehrgeschwader 1, l'Escadre au Griffon. Tome 02

43.00€

TTC

La Jagdgeschwader 54 : Les Aigles au 'coeur vert' de la Luftwaffe. Tome 02.

49.00€

TTC

Le III./Zerstörergeschwader 26 - 1939/1944. Out of print

35.00€

TTC

Le GC III/3 en 1939-1940. Condors et Pirates au combat.

38.00€

TTC

Le 350 (Belgian) Squadron. Out of print !

39.00€

TTC

La Stukageschwader 2 'Immelmann'. Tome 01

39.00€

TTC