Not available Price: 39.00 € VAT included 5.50 % : 2.03 €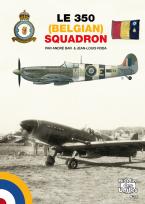 Le 350 (Belgian) Squadron. Out of print !
Release of 20/12/2018
Author:
André Bar & Jean-Louis ROBA
Edition:
Collection Histoire des Unités n°06
ISBN :
978-2-37468-019-4
Unpublished and for the first time published, discover this extremely interesting subject illustrated by beautiful photos!
Created in response to the desire of the Belgian government in exile in London to have a purely national hunting unit, No. 350 (Belgian) Squadron was formed in November 1941. With a combined staff (former pilots of Aeronautics military, students who have completed their schooling in the RAF, mainly British technicians), the unit will first take part in the air defense of the United Kingdom before being hired on Dieppe and in regular missions on the continent. This will be the Normandy landings; then the liberation of Belgium and advance in the Reich. The end of the Second World War will see the squadron based in Germany. This book tells not only the story of the first Belgian fighter unit in the Royal Air Force but also the pilots who flew them.

REEDITATED book! First release Oct. 25, 2016 - 2nd release in 2018!


Format : A4
Pages number : 240
Pictures number : 400
Language : French
Color profiles : 19
Not available Price: 39.00 €
Avions-bateaux suggestions :
La Stukageschwader 2 'Immelmann'. Tome 02

35.00€

TTC

La Lehrgeschwader 1, l'Escadre au Griffon. Tome 02

43.00€

TTC

La Jagdgeschwader 54 : Les Aigles au 'coeur vert' de la Luftwaffe. Tome 02.

49.00€

TTC

Le III./Zerstörergeschwader 26 - 1939/1944. Out of print

35.00€

TTC

Le GC III/3 en 1939-1940. Condors et Pirates au combat.

38.00€

TTC

La Stukageschwader 2 'Immelmann'. Tome 01

39.00€

TTC

Le GC 1/55. La dernière garde gouvernementale. 1940.

36.00€

TTC