Available Price: 39.00 € 19.50 € VAT included 5.50 % : 2.03 €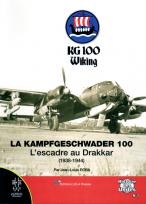 La Kampfgeschwader 100. L'Escadre au Drakkar (1938-1944).
Release of 10/06/2015
Author:
Jean Louis ROBA.
Edition:
HISTOIRE DES UNITÉS 01
ISBN :
978-2-914017-82-4
The KG 100 remains a unit still mysterious although having experienced some "celebrity" in 1943 when sending by the bottom of the Italian battleship "Roma" by means of Hs 293, the famous "glider bombs." But the rest of his career is largely unrecognized. Having seen the day before the war as a precision guide unit, the KG 100 was going to evolve toward more common tasks, first on He 111 then Do 217 and finally on He 177. She was hired in Scandinavia, on Britain, the USSR and the Mediterranean. Often based in France, the unit was finally take part in the fighting in Normandy in June 1944 before its dissolution.

A very complete book, richly illustrated with documents for most previously unreleased enriched with numerous annexes (such as the list losses during the war).
Format : A4
Pages number : 224
Pictures number : 550
Language : French
Color profiles : 25
Available Price: 19.50 €
Avions-bateaux suggestions :
La Stukageschwader 2 'Immelmann'. Tome 02

35.00€

TTC

La Lehrgeschwader 1, l'Escadre au Griffon. Tome 02

43.00€

TTC

La Jagdgeschwader 54 : Les Aigles au 'coeur vert' de la Luftwaffe. Tome 02.

49.00€

TTC

Le III./Zerstörergeschwader 26 - 1939/1944. Out of print

35.00€

TTC

Le GC III/3 en 1939-1940. Condors et Pirates au combat.

38.00€

TTC

Le 350 (Belgian) Squadron. Out of print !

39.00€

TTC

La Stukageschwader 2 'Immelmann'. Tome 01

39.00€

TTC