Available Price: 25.00 € 12.50 € VAT included 5.50 % : 1.30 €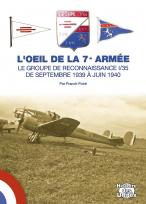 THE EYE OF THE ARMY 7th. The GR 1/35 from September 1939 to June.
Release of 17/12/2013
Author:
Franck Poiré
Edition:
Collection Histoire des Unités n°02.
ISBN :
978-2-914017-77-0
The Reconnaissance Group 1/35, attached to the Seventh French Army, was a great unit that served with great distinction during operations against Germany from September 1939 to June 1940. Equipped with Bloch 131 ineffective mobilization, GR 1/35 then the perceived Potez 63-11 then some Bloch 174. This is the story of all men who served in this group that we discover with great passion Frank Poiré.
Format : A4
Pages number : 104
Pictures number : 250
Language : French
Color profiles : 11
Available Price: 12.50 €
Avions-bateaux suggestions :
La Stukageschwader 2 'Immelmann'. Tome 02

35.00€

TTC

La Lehrgeschwader 1, l'Escadre au Griffon. Tome 02

43.00€

TTC

La Jagdgeschwader 54 : Les Aigles au 'coeur vert' de la Luftwaffe. Tome 02.

49.00€

TTC

Le III./Zerstörergeschwader 26 - 1939/1944. Out of print

35.00€

TTC

Le GC III/3 en 1939-1940. Condors et Pirates au combat.

38.00€

TTC

Le 350 (Belgian) Squadron. Out of print !

39.00€

TTC

La Stukageschwader 2 'Immelmann'. Tome 01

39.00€

TTC