Available Price: 30.00 € VAT included 5.50 % : 1.56 €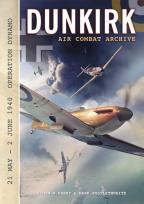 DUNKIRK - Air Combat Archice. 21 May - 2 June 1940. Operation DYNAMO.
Release of 10/07/2017
Author:
Simon W. PARRY & ark Postlethwaite
Edition:
Wing Leader
ISBN :
978-1906593-38-7
Just 10 days after invading France and the Low Countries, the German spearhead reached the Channel coast, thus trapping over 350,000 Allied troops in the area around Dunkirk and Calais. Suddenly, a mass evacuation by sea became the only hope of saving these men; Operation Dynamo was on.
The operation was hugely vulnerable to air attack so RAF Fighter Command was tasked with providing continual air cover for the Dunkirk area. The Spitfires, Hurricanes and Defiants flew from English coastal airfields on long and tiring patrols and often fought against vastly superior numbers. In the end, their efforts and sacrifices undoubtedly helped towards saving over 300,000 soldiers, although at the time it was commonly believed that the RAF were not seen over Dunkirk. This book can now put the record straight.
Using contemporary accounts such as combat reports, rarely seen squadron intelligence summaries and the newly released casualty reports, the author and his team of experts have broken down each day from 21 May to 2 June 1940 into individual combats and list the claims and losses from both sides to provide a complete reference archive for each encounter. The days are illustrated with maps, specially commissioned colour profiles and hundreds of original wartime photos, providing a glorious tribute to the unsung early heroes of Fighter Command, many of whom did not live to see the Battle of Britain.

This unique book contains:
- Over 200 original wartime photos
- 12 combat maps
- 3 Specially commissioned combat scenes by Piotr Forkasiewicz, one of the world's leading digital aviation artists.
- 10 new colour profiles.
Format : A4
Pages number : 192
Pictures number : 200
Language : English
Color profiles : 10
Available Price: 30.00 €
Avions-bateaux suggestions :
SUPERMARINE SPITFIRE MkI in RAF Service - 1936 to the Battle of Britain.

29.00€

TTC

Nachtjagd Combat Archive - 1944 - Part 02

30.00€

TTC

Wingleader Magazine Printed Compendium Vol.4

18.00€

TTC

Nachtjagd Combat Archive - 1944 - Part 01

30.00€

TTC

Wingleader Magazine Printed Compendium Vol.3

18.00€

TTC

Nachtjagd Combat Archive - The Early Years - Part Three.

24.00€

TTC

Battle of Britain Combat Archive - Vol 7.

24.00€

TTC