Available Price: 30.00 € VAT included 5.50 % : 1.56 €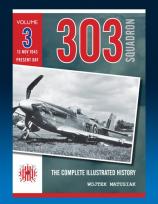 303 Squadron - The Complete Illustrated History Vol 3.
Release of 4/09/2015
Author:
Wojtek Matusiak
Edition:
Wing Leader
ISBN :
978-1-906592-24-0
Volume Three covers the period from the autumn of 1943 until the war's end and the squadron's ultimate disbandment in 1946, and includes wartime colour photos and a full index for all three volumes.

A new series of three 'photo album' books covering the history of one of the most famous flying units in history. Tracing its journey from the roots that formed in the Polish-Russian war, through the invasions of Poland and France, to England and ultimate victory. This series chronicles the events in an easy to read diary format and illustrates it with over 600 original wartime photos.
Written by one of the leading Polish aviation historians, this is the ultimate visual and historical guide to 'Dywizjon 303'!
Format : A4
Pages number : 192
Pictures number : 200
Language : English
Color profiles :
Available Price: 30.00 €
Avions-bateaux suggestions :
SUPERMARINE SPITFIRE MkI in RAF Service - 1936 to the Battle of Britain.

29.00€

TTC

Nachtjagd Combat Archive - 1944 - Part 02

30.00€

TTC

Wingleader Magazine Printed Compendium Vol.4

18.00€

TTC

Nachtjagd Combat Archive - 1944 - Part 01

30.00€

TTC

Wingleader Magazine Printed Compendium Vol.3

18.00€

TTC

Nachtjagd Combat Archive - The Early Years - Part Three.

24.00€

TTC

Battle of Britain Combat Archive - Vol 7.

24.00€

TTC