Available Price: 44.00 € VAT included 5.50 % : 2.29 €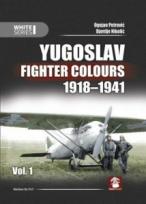 Yugoslav Fighter Colours 1918-1941. Volume 1
Release of 14/07/2020
Author:
Ognjan Petrovic, Djordie Nikolic
Edition:
MMP - Série WHITE 9141
ISBN :
This first volume describes in detail the camouflage and markings of the day fighters used by the Yugoslav Air Force from 1918 to 1941. Aircraft of Yugoslav, British, German, Czech and French origin are shown in many historical photographs and colour profiles showing the colours and markings carried by the aircraft. Detailed colour notes and precise description and illustration of national markings over the period begins a two-book set that will be invaluable to aircraft enthusiasts, historians and modellers.
Format : A4
Pages number : 192
Pictures number : 300
Language : English
Color profiles : 60
Available Price: 44.00 €
Avions-bateaux suggestions :
Single No. 24 Henschel Hs 126 B-1

11.00€

TTC

Polish Wings No. 29 Supermarine Spitfire V vol. 1

19.00€

TTC

Single No. 23 NAA P-51B-1-NA Mustang

11.00€

TTC

Battle Of Britain Defenders

21.00€

TTC

Scale Plans No. 67 Mil Mi-24D/V in 1/48 scale

11.00€

TTC

Scale Plans No. 66. Republic F-105 Thunderchief 1/72 Scale

11.00€

TTC

Single N°22 - Morane Saulnier MS.406

11.00€

TTC