Available Price: 31.95 € VAT included 5.50 % : 1.67 €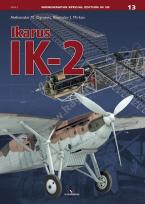 Ikarus IK-2
Release of 13/01/2020
Author:
Aleksandar M. Ognjevic, Branislav J. Mirkov
Edition:
KAGERO - MONOGRAPHS SPECIAL EDITION N°13
ISBN :
- The Ikarus IK-2 was one of two fighters of indigenous construction which saw service during the so-called April war in 1941. This book is made of a historical part and then a technical part, both richly detailed. 1/72, 1/48 and 1/32 scale plans are also included. Very nice and unique !
Format : A4 + dépliant
Pages number : 196
Pictures number : 96
Language : English
Color profiles : 140
Available Price: 31.95 €
Avions-bateaux suggestions :
Messerschmitt Bf 109 T

19.00€

TTC

Yakovlev Yak-3

18.00€

TTC

Fairey Swordfish Mk. I, II, III, IV, Floatplane

19.00€

TTC

Gloster Gladiator Mk. I, I Trop, II, II Meteo, Sea Gladiator, J-8

19.00€

TTC

Hawker Siddeley (BAe), McDonnell-Douglas/Boeing Harrier AV-8S/TAV-8S & AV-8B/B+/TAV-8B

22.50€

TTC

Dassault Mirage F1s

22.50€

TTC

Mirage III. IAI Nasher/Dagger

22.50€

TTC