Available Price: 18.75 € VAT included 5.50 % : 0.98 €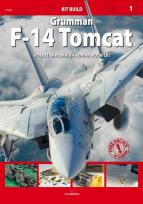 KIT BUILD 01 - Grumman F-14 TOMCAT.
Release of 15/12/2019
Author:
Robert Skalbania, Adrian Wolnicki
Edition:
KAGERO - KIT BUILD N°01
ISBN :
First issue of a new series dedicated to plastic modelling, with two kits of the famous Grumman F-14 Tomcat :
-1/48 scale with the Tamiya kit ;
-1/72 scale with the Fine Molds kit.
Every step of the assembly is described with nice photos. An excellent guide.
Format : A4
Pages number : 66
Pictures number : 186
Language : English
Color profiles : 10
Available Price: 18.75 €
Avions-bateaux suggestions :
Messerschmitt Bf 109 T

19.00€

TTC

Yakovlev Yak-3

18.00€

TTC

Fairey Swordfish Mk. I, II, III, IV, Floatplane

19.00€

TTC

Gloster Gladiator Mk. I, I Trop, II, II Meteo, Sea Gladiator, J-8

19.00€

TTC

Hawker Siddeley (BAe), McDonnell-Douglas/Boeing Harrier AV-8S/TAV-8S & AV-8B/B+/TAV-8B

22.50€

TTC

Dassault Mirage F1s

22.50€

TTC

Mirage III. IAI Nasher/Dagger

22.50€

TTC