Available Price: 7.00 € VAT included 5.50 % : 0.36 €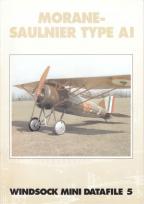 Windsock Mini Datafile - 05 - MORANE-SAULNIER Type AI
Exclusivité internet!
Release of 1/02/1990
Author:
J. M. BRUCE
Edition:
ALBATROS PRODUCTIONS
ISBN :
Racy high wing late war French monoplane fighter of striking design. This highly informative study comprises 16 pages packed with data, 23 rare archive photos and over four pages of scale drawings by Ian Stair with two colour photos of the restored Memorial Flight example plus two profiles on the rear covers showing the distinctive five colour French camouflage pattern.Complementing this are camouflage sketches and details of plaques affixed to the airframe.
Format : A4
Pages number : 12
Pictures number : 23
Language : English
Color profiles : 2
Available Price: 7.00 €
Avions-bateaux suggestions :
Building the Wingnut Wings N°9 - HALBERSTADT CL.II

31.00€

TTC

Building the Wingnut Wings N°8 - HANNOVER CL.II

29.50€

TTC

BUILDING THE WINGNUT WINGS : THE DOLPHIN AND PFALZ D.IIIA.

30.00€

TTC

BUILDING THE WINGNUT WINGS : JUNKERS D.I

30.00€

TTC

BUILDING THE WINGNUT WINGS : GOTHA G.IV. Reissue !

32.00€

TTC

BUILDING THE WINGNUT WINGS : SOPWITH CAMELS (&LVG C.VI)

31.00€

TTC

Windsock Datafile - 174 - PFALZ D.IIIA AT WAR ! Vol.2

16.00€

TTC