Available Price: 16.50 € VAT included 5.50 % : 0.86 €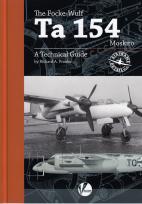 The Focke-Wulf Ta 154 Moskito.
Release of 15/02/2019
Author:
Richard A. Franks
Edition:
VALIANT - AIRFRAME DETAIL N°06.
ISBN :
978-0-9957773-7-8
Our sixth title in the Airframe Detail series is an essential companion for anyone tackling the HpH Model kit in 1/32nd, Dragon/Revell 1/48th, or the Hasegawa and even PM examples in 1/72nd scale.

Contents include:
- Period detail images during production and service use.
- A wealth of historical photographs and technical diagrams.
- Data from flight manuals and spare parts catalogues.
- Colour profiles by Richard J. Caruana.
- Lists of all Ta 154 kit and accessories produced in all scales.
- Kit build of the 1/32nd Ta 154 from HpH Models by Steve Evans.
 
Format : A4
Pages number : 66
Pictures number : 110
Language : English
Color profiles : 13
Available Price: 16.50 €
Avions-bateaux suggestions :
The Focke-Wulf Fw 190 Radial-engine Versions (including Fw 190A, B, C, F, G & S). Corrected reissue

25.00€

TTC

The Focke-Wulf Fw 190D and Ta 152. (Corrected reissue)

24.00€

TTC

The Henschel Hs 123

16.50€

TTC

The Battle of Midway - 4th to 7th June 1942.

13.50€

TTC

The Supermarine Spitfire - Part 2 (Griffon-powered) including the Seafire, Spiteful & Seafang

24.50€

TTC

The Gloster/A.W. Meteor - A Detailed Guide To Britain's First Jet Fighter

22.00€

TTC

The HAWKER TEMPEST. 2nd Edition !

22.50€

TTC