Available Price: 12.00 € VAT included 5.50 % : 0.63 €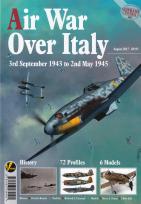 Air War Over Italy - 3rd September 1943 to 2nd May 1945.
Release of 1/10/2017
Author:
Edition:
VALIANT - AIRFRAME EXTRA N°08.
ISBN :
978-0-9935345-9-1
Covers the historical aspects of the aerial conflict over Italy from the Allied landing at Salerno on the 3rd September 1943 through to the surrender and cessation of fighting by all Axis forces in Italy on the 2nd May 1945.

- Historical narrative by Patrick Branly
- Numerous period images
- Over 70 colour profiles by Richard J Caruana
- Specially commissioned kit builds:
-- 1/72nd Ju 88A-4 (Hasegawa);
-- 1/48th P-39 Airacobra (Eduard);
-- 1/32nd Macchi C.205 Veltro (21st Century Toys) by Steve A. Evans
-- 1/72nd Spitfire Mk IXc (Eduard);
-- 1/72nd Fiat G.55 Serie I (Special Hobby);
-- 1/72nd Baltimore Mk V (Special Hobby) by Libor Jekl.
Format : A4
Pages number : 82
Pictures number : 150
Language : English
Color profiles : 70
Available Price: 12.00 €
Avions-bateaux suggestions :
The Focke-Wulf Fw 190 Radial-engine Versions (including Fw 190A, B, C, F, G & S). Corrected reissue

25.00€

TTC

The Focke-Wulf Fw 190D and Ta 152. (Corrected reissue)

24.00€

TTC

The Henschel Hs 123

16.50€

TTC

The Battle of Midway - 4th to 7th June 1942.

13.50€

TTC

The Supermarine Spitfire - Part 2 (Griffon-powered) including the Seafire, Spiteful & Seafang

24.50€

TTC

The Gloster/A.W. Meteor - A Detailed Guide To Britain's First Jet Fighter

22.00€

TTC

The HAWKER TEMPEST. 2nd Edition !

22.50€

TTC