Available Price: 59.00 € VAT included 5.50 % : 3.08 €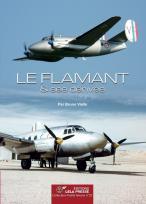 Le Flamant & ses dérivés.
Release of 19/06/2019
Author:
Bruno Vielle
Edition:
Collection Profils Avions N°32
ISBN :
978-2-37468-021-7
For everyone, the manufacturer Dassault is associated with the Mysteries and Mirages. However, it is with a twin piston engine that Marcel Bloch, become Dassault, returns to the front of the aeronautical scene in the late forties. Indeed, almost 70 years ago Mérignac flew his first plane, the MD.303. His descendants, produced in three versions, MD.315 of Colonial Police, MD.311 Bombardment and Navigation Training and MD.312 Liaison and Flying School, will be the first French aircraft of the postwar products. serial. If the plane was named Flamingo by the administration, its users simply call it the Dassault. It will ensure the presence of French wings in the colonies until the dislocation of the French Union. Its school versions will train generations of transport crew for nearly 34 years. It will be the liaison plane for all Air Force units. This book invites you to discover the history of Dassault and its direct derivatives Spirale, Community and Swallow.
With 320 pages, more than 550 photos, more than 80 plans and diagrams, enhanced with 49 color profiles by Pierre-André Tilley.
 
Format : A4
Pages number : 320
Pictures number : 550
Language : French
Color profiles : 49
Available Price: 59.00 €
Avions-bateaux suggestions :
Le MORANE SAULNIER MS-760 PARIS

55.00€

TTC

Le Focke-Wulf 200 Condor.

55.00€

TTC

Lockheed F-104 Starfighter - the controversial story of th 'Zipper'

55.00€

TTC

Le NORATLAS, du Nord 2500 au Nord 2508. Slightly damaged. out of print !

55.00€

TTC

LE JUNKERS Ju 52, DE LA LUFTHANSA A LA LUFTWAFFE.

35.00€

TTC

The P-51 Mustang, a fighter into legend.

55.00€

TTC

ALPHA JET. 40 ans, 1973-2013.

50.00€

TTC