En Précommande Price: 55.00 € VAT included 5.50 % : 2.87 €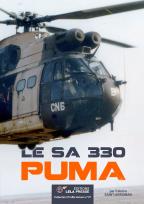 Le SA 330 PUMA
Release of 28/02/2020
Author:
Fabrice SAINT-ARROMAN
Edition:
Collection Profils Avions N°37
ISBN :
Release FEBRUARY 28, 2020 - FREE POST until this DATE!
Offer reserved for individuals. 200 sales are needed. To date 306 books have been sold. He's at the printer !

Prefer payment by check or Visa / MasterCard that you will send by post. It will not be cashed until publication. Exclusive at LELA PRESS!
Orders paid directly on the site will be with immediate debit. ORDER FORM in PDF (2) attached.



Designed to meet the needs of ALAT (Army Light Aviation, looking for a new tactical transport helicopter in the aftermath of the Algerian war), the Puma was a great success in the military field, in France and abroad, but also in the civilian market.
He has participated in most of the conflicts and crises of the last forty years, from the Falklands to the Sahel, via the Balkans or Angola.
More than fifty years after his first flight, and as the end of his career approaches, here is for the first time recounted in detail the unknown history of this helicopter with the silhouette yet so familiar. "

About 336 pages with more than 800 images and 10 plans, diagrams and color profiles.
Discover the 15 pages of this book thanks to PDF.
Format : A4
Pages number : 336
Pictures number : 800
Language : French
Color profiles : 20
En Précommande Price: 55.00 €
Avions-bateaux suggestions :