En Précommande Price: 59.00 € VAT included 5.50 % : 3.08 €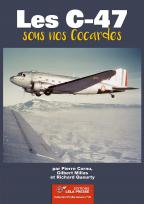 Les C-47 sous nos Cocardes.
Release of 10/01/2020
Author:
Pierre Cornu et Gilbert Millas
Edition:
Collection Profils Avions N°35
ISBN :
Release January 10, 2020 - FREE POST until this DATE!
Offer reserved for individuals, non-contractual date, printing launched when the pre-sales objective will be reached. 200 sales are needed. To date 277 copies have been sold. IT'S AT THE BOOKS PRINTER!

Prefer payment by Visa / MasterCard that you will send by post. It will not be cashed until publication. Exclusive at LELA PRESS!
Orders paid directly on the site will be with immediate debit. ORDER FORM in PDF (2) attached.



In 1935, during the first flight of the prototype, who could have imagined the incredible success of the Douglas DC-3! After the second world war, the C-47, its military version, will symbolize the plane of the landing of Normandy and as of 1944, it will fly under French cockades.

In the Air Force and Naval Aviation, nearly 300 "Dakota", nickname of the C-47, will ensure countless missions. For forty years, the "Dakota" will wear our colors throughout the world: it is this long page of our military aeronautical history that is told in this book.

The C-47s will know the Indochina conflict and the hell of Dien Bien Phu. They will be deployed in Africa, they will cross the skies of many countries. In metropolitan France, they will participate in the training of Air Transport Military crews, they will also equip the Naval Aviation. Unpublished testimonials illustrate the missions of the C-47 and revive his adventures.

Withdrawn from service, many "Dakota" are sold to other countries or airlines, some will be equipped with turbines. The "life" of each aircraft that served in the French armies is traced. Some still fly today and their story continues!

Widely illustrated, completed by fifty profiles, this reference book finally comes to tell what was the career of the mythical "Dakota" under the French cockades.

About 430 pages with more than 1300 images and 50 color profiles.
Discover the 15 pages of this book thanks to PDF.
Format : A4
Pages number : 448
Pictures number : 1300
Language : French
Color profiles : 50
En Précommande Price: 59.00 €
Avions-bateaux suggestions :