En Précommande Price: 59.00 € VAT included 5.50 % : 3.08 €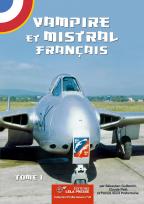 VAMPIRE et MISTRAL Français. Tome 01
Release of 28/02/2020
Author:
Sébastien Guillemin, Claude Petit et Patrick Vinot Préfontaine
Edition:
Collection Profils Avions N°34
ISBN :
Release FEBRUARY 28, 2020 - FREE POST until this DATE!
Offer reserved for individuals. 200 sales are needed. To date 248 books have been sold. He's at the printer !

Prefer payment by Visa / MasterCard that you will send by post. It will not be cashed until publication. Exclusive at LELA PRESS!
Orders paid directly on the site will be with immediate debit. ORDER FORM in PDF (2) attached.



During the war, France had stayed away from the technological revolution that constituted propulsion by reaction. A considerable industrial and financial effort would make it possible to catch up in a few years and to see the emergence of Dassault's products. But before the program came to fruition, the Air Force had to learn all about this new mode of propulsion and its consequences for pilotage, maintenance, and combat procedures.
It is a product of the British industry, the de Havilland DH.100 Vampire, which is chosen to ensure this mutation and radically modernize the hunting units. Some are delivered whole, coming from the RAF, the others being built under license in Marignane. The mastery of this manufacture will allow the SNCASE to develop a more powerful version, the SE.532 / 535 Mistral, used in the Algerian theater of operations. Upgraded in the mid-1950s, these unique-looking hunters allowed the French forces to enter the era of combat jets, but no book has so far traced the career, as they were numerous and widespread.
The three authors, backed by a large network of friends, took up this challenge and told in detail the history of all the units and departments that had used Vampire and Mistral. Correlatively, the individual career of the 574 aircraft is closely traced. The industrial and operational aspects are not forgotten.
The book, presented in two volumes, is based on an iconography of some 1,700 photos and drawings and on the many profiles made by Patrice Gaubert. More than 100 testimonials from the actors of this era show how the beginnings of the jet were exciting ... or dramatic.

About 1700 photos, 50 profiles, many shots 3-views at 1/72, all gathered in these two volumes. 384 pages for volume 01 and 400 pages for volume 02.
Discover the 15 pages of this book thanks to PDF.
Format : A4
Pages number : 384
Pictures number : 850
Language : French
Color profiles : 25
En Précommande Price: 59.00 €
Avions-bateaux suggestions :