En Précommande Price: 49.90 € VAT included 5.50 % : 2.60 €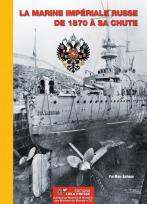 LA MARINE IMPÉRIALE RUSSE de 1870 à sa chute.
Release of 30/04/2020
Author:
Marc SAIBENE
Edition:
Collection Marines du Monde N°32
ISBN :
Release APRY 2020 - FREE POST until this DATE!
Offer reserved for individuals, non-contractual date, printing launched when the pre-sales objective will be reached. 200 sales are needed. To date 134 books have been sold.

Prefer payment by Visa / MasterCard that you will send by post. It will not be cashed until publication. Exclusive at LELA PRESS!
Orders paid directly on the site will be with immediate debit. ORDER FORM in PDF (2) attached.


French works on the Russian Imperial Navy are rare. The same can be said of English and American publications.

The Russian imperial navy is nevertheless an extraordinary navy, because divided between three main theaters: the Baltic, the Pacific and the Black Sea, of which only the first two could be connected (at the cost of great difficulties), the Black Sea remaining throughout its history a sea closed by a hereditary enemy: Turkey.
Exceptional also because it has always strived to develop innovative technical means to be pioneers in several areas such as submarine torpedo or mine warfare; many more ...
But also hampered by harsh climatic conditions, questionable doctrines and bad management of crews.
A story in contrast that saw the navy rebuild in a few years after being almost crushed in the Russo-Japanese war, while the virus of the revolution contaminated it.

This historical work on the Russian Imperial Navy and its ships is based on original archival sources. Thus, the author took as main support of his research the reports of the French naval attachés in Saint Petersburg, particularly provided and documented because of the Franco-Russian alliance. He supported them with the publications of the French war school of the time and then with some Russian books and contemporary specialized journals.

This book includes a historical part developing the evolution of the Navy and its structures (detailed work on advances or technological and industrial deficiencies, arsenals, shipyards, industries, officer corps, training of crews and, of course, conflicts and events, lessons learned, etc.) and a technical part detailing each ship and series of vessels with characteristics and brief histories.

All on 384 pages, enriched with nearly 600 photos and documents.
Discover the 15 pages of this book thanks to PDF.
Format : A4
Pages number : 384
Pictures number : 600
Language : French
Color profiles :
En Précommande Price: 49.90 €
Avions-bateaux suggestions :