Available Price: 55.00 € 27.50 € VAT included 5.50 % : 2.87 €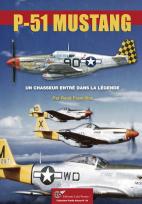 The P-51 Mustang, a fighter into legend.
Release of 15/12/2014
Author:
René Francillon
Edition:
PROFILS AVIONS N°24
ISBN :
978-2-914017-81-7
Although he started his career very discreetly, the Mustang became by the combination of an American cell and a British motor, one of the the best fighters of World War II. This is his story we to discover René Francillon, with beautiful and many photographs, complemented by the beautiful colors of Thierry Dekker profiles.
Format : A4
Pages number : 376
Pictures number : 800
Language : French
Color profiles : 40
Available Price: 27.50 €
Avions-bateaux suggestions :
VAMPIRE et MISTRAL Français. Tome 01

59.00€

TTC

Le SA 330 PUMA

55.00€

TTC

Les C-47 sous nos Cocardes.

59.00€

TTC

Le Flamant & ses dérivés.

59.00€

TTC

Les Hydravions de la Luftwaffe. Vol.01. Out of print !

53.00€

TTC

Les Hydravions de la Luftwaffe. Vol.02. Sold out!

55.00€

TTC

Le Focke-Wulf 200 Condor.

55.00€

TTC