Available Price: 45.00 € 22.50 € VAT included 5.50 % : 2.35 €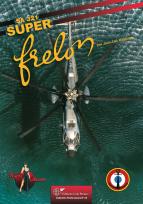 The SUPER FRELON.
Release of 19/11/2012
Author:
Jean-Luc KERDILÉS.
Edition:
PROFILS AVIONS N°23
ISBN :
978-2-914017-72-5
In 44 years of service in the Navy and 2,150 people rescued to its credit, the Super Hornet has become, in France, a helicopter mythical.

He has filled nearly all types of missions that Navy or Air Force may designate a rotary wing of the anti submarine operational and logistical transport through marine salvage, rescue and combat missions the benefit of special commandos.

For this purpose, it has been selected by several countries and has played for the Israeli armed forces, South Africa, Libya, China and Iraq.

This book presents its genesis, its development, commissioning as well as the characteristics and technical and operational capabilities of all its civil and military versions, French and foreign. The various uses of "Super" are described together with its Chinese copies, the Z-8 and the latest AC 313.

The "Aircraft Profile" also traces the history of units that have used and, for each country, lists the units delivered and their current situation.

His civilian career has not been forgotten and is illustrated by numerous photographs and the testimony of a man who lived it.

New edition, supplemented and expanded the work published some years ago and quickly sold out. Jean-Luc Kerdilés it approaches the end of the career of this fabulous helicopter Naval Aviation, which was a regular coastal skies for decades ...

A4, 192 pages, around 430 photographs, drawings and three color profiles.

Format : A4
Pages number : 192
Pictures number : 430
Language : French
Color profiles : 3
Available Price: 22.50 €
Avions-bateaux suggestions :
Le Flamant & ses dérivés.

59.00€

TTC

Le Focke-Wulf 200 Condor.

55.00€

TTC

Le MORANE SAULNIER MS-760 PARIS

55.00€

TTC

Lockheed F-104 Starfighter - the controversial story of th 'Zipper'

55.00€

TTC

Le NORATLAS, du Nord 2500 au Nord 2508. Slightly damaged. out of print !

55.00€

TTC

LE JUNKERS Ju 52, DE LA LUFTHANSA A LA LUFTWAFFE.

35.00€

TTC

The P-51 Mustang, a fighter into legend.

55.00€

TTC