Available Price: 55.00 € 27.50 € VAT included 5.50 % : 2.87 €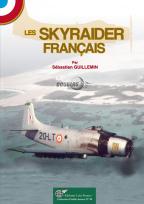 The Skyraider FRENCH.
Release of 19/11/2012
Author:
Sébastien GUILLEMIN
Edition:
Profils Avions n°20
ISBN :
978-2-914017-65-7
The Skyraider was originally purchased in 1959 to replace Thunderbolt of the venerable 20th Fighter Wing was mission to carry out the maintenance of order in North Africa. 113 copies used by the Air Force until 1978, he had the distinction of being the largest single-engine, propeller,pick up its own weight on arms. many testimony, an iconography of nearly 600 photos (and 11 color profiles), trace the history of French units and those countries that have had in the sale until 1982.
An exceptional work no doubt !
Format : A4
Pages number : 412
Pictures number : 600
Language : French
Color profiles : 11
Available Price: 27.50 €
Avions-bateaux suggestions :
Le Flamant & ses dérivés.

59.00€

TTC

Le Focke-Wulf 200 Condor.

55.00€

TTC

Le MORANE SAULNIER MS-760 PARIS

55.00€

TTC

Lockheed F-104 Starfighter - the controversial story of th 'Zipper'

55.00€

TTC

Le NORATLAS, du Nord 2500 au Nord 2508. Slightly damaged. out of print !

55.00€

TTC

LE JUNKERS Ju 52, DE LA LUFTHANSA A LA LUFTWAFFE.

35.00€

TTC

The P-51 Mustang, a fighter into legend.

55.00€

TTC