Available Price: 35.00 € 28.00 € VAT included 5.50 % : 1.82 €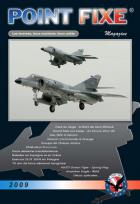 POINT FIXE Magazine 2009 - n°07
Release of 1/03/2009
Author:
Edition:
POINTFIXE
ISBN :
In this N ° 07:
. Offshore: the flying fleets of the Lann-Bihoué BAN
. Mission Commander: the Chef de Mission internship in Orange
. The tigers of the ocean: NATO Ocean Tiger, the Tiger Meet in Landivisiau
. Elliniki Polemiki Aeroporia: a visit to the Araxos and Larissa bases
. From SEM to Garons
. IRIAF, Zlot2008, Anatolian Eagle ...

... Complete summary in PDF attached.
Format : A4
Pages number : 144
Pictures number : 400
Language : French
Color profiles :
Available Price: 28.00 €
Avions-bateaux suggestions :
POINT FIXE 2016-2017 - n°13

55.00€

TTC

POINT FIXE Magazine 2014-2015 - n°12

55.00€

TTC

POINT FIXE Magazine 2010 - n°08

39.00€

TTC

POINT FIXE Magazine 2008 - n°06

35.00€

TTC

POINT FIXE Magazine 2007 - n°05

33.00€

TTC

POINT FIXE Magazine 2006 - n°04

30.00€

TTC

POINT FIXE Magazine 2004 - n°02

30.00€

TTC