Available Price: 30.00 € VAT included 5.50 % : 1.56 €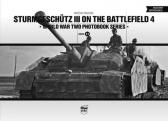 Sturmgeschütz III on the Battlefield 4. (Vol.13) WW II photobook series
Release of 28/02/2017
Author:
Matyas Panczel
Edition:
PANZERWRECKS - PEKO PUB. 13
ISBN :
978-615-5583-02-5
Sturmgeschütz III on the Battlefield 4 is Matyas Panczel's fourth on the Sturmgeschütz III for PeKo Publishing of Hungary. It follows their house format of 112 pages, 105 large landscape photographs.
This is the fourth volume of photos showing the Stug in service in WW2, and clearly adds to our knowledge about this well-known vehicle. The focus of the writing in this particular publication is the period 1943-45 in Italy and in NW Europe, and the period 1944-45 on the Russian Front. However, the photos actually cover a wider span, with some referring to 1940-42.
Pages 10 to 32 cover the short-barrel (L/24) vehicles - Ausf. A, B, C and D (E and F not shown). The pictures often include associated vehicles and equipment, and this sort of contextual information is of major value to anyone setting their model into a diorama.
A couple of photos show the L/43 version, and the rest of the book covers the classic L/48 version (pages 35-99) with the last ten pages looking at the Sturmhaubitze version with the 10.5cm howitzer, of which 1300 were produced...
Format : 30 X 21.5
Pages number : 105
Pictures number : 112
Language : Hungarian/English
Color profiles :
Available Price: 30.00 €
Avions-bateaux suggestions :
Panzers in Berlin 1945

68.00€

TTC

German Self-Propelled Guns on the Battlefield (Vol.19)

30.00€

TTC

Sturmgeschütz III and Sturmhaubitze 42

25.00€

TTC

Panzer III on the Battlefield 2 (Vol.18)

30.00€

TTC

T-34 on the Battlefield 2 (Vol.17)

30.00€

TTC

Panzerwrecks 22: Desert

21.50€

TTC

The Red Army on Parade 1917-1945

45.00€

TTC