Available Price: 21.00 € VAT included 5.50 % : 1.09 €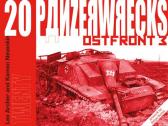 Panzerwrecks 20: Ostfront 3
Release of 1/12/2016
Author:
Lee Archer & Kamen Nevenkin
Edition:
PANZERWRECKS SERIE N°20
ISBN :
978-1-908032-14-0
Nearly every photograph in Panzerwrecks 20 is from a photograph album unearthed from the depths of a Russian archive and was produced by the 17th Air Army during their evaluation of the effects of aircraft weapons on German (and Hungarian) tanks littering the area around Lake Balaton in Hungary. No test reports on training grounds and firing ranges here – everything is based on genuine after-action and field reports. Not only have we included the photographs and data from the captions, but many of the accompanying sketches too. 98 rare and unpublished large format photographs from Russian archives, 49 wartime sketches and stunning specially commissioned artwork by Felipe Rodna.
Vehicles :
- Tiger II
- Panther Ausf.A
- Panther Ausf.G
- Panther Ausf.G (infra-red)
- Bergepanther
- Jagdpanther
- Pz.Kpfw.IV Ausf.J
- Pz.Beob.Wg.IV
- Flakpanzer Möbelwagen
- Panzer IV/70(A), IV/70(V)
- Jagdpanzer IV
- Hummel
- Sturmgeschütz III Ausf.G
- Sturmhaubitze 42
- Pz.Beob.Wg.III
- Wespe
- Jagdpanzer 38 (Hetzer)
- Marder 38T
- 40M Nimrod (Hungarian)
- Sd.Kfz.251, 250 Ausf.B, 7/2 (Flak 36), 7/2 (Flak 43), 7, 8, 222 Ausf.B.
Format : 28 X 21
Pages number : 96
Pictures number : 98
Language : English
Color profiles : 14
Available Price: 21.00 €
Avions-bateaux suggestions :
Panzers in Berlin 1945

68.00€

TTC

German Self-Propelled Guns on the Battlefield (Vol.19)

30.00€

TTC

Sturmgeschütz III and Sturmhaubitze 42

25.00€

TTC

Panzer III on the Battlefield 2 (Vol.18)

30.00€

TTC

T-34 on the Battlefield 2 (Vol.17)

30.00€

TTC

The Red Army on Parade 1917-1945

45.00€

TTC

Panzerwrecks 22: Desert

21.50€

TTC