Available Price: 30.50 € VAT included 5.50 % : 1.59 €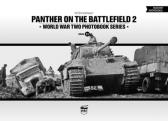 Panther on the Battlefield 2. Vol.11. WW II photobook series.
Release of 1/11/2016
Author:
Péter Barnaky
Edition:
PANZERWRECKS - PEKO PUB. 11
ISBN :
978-615-80072-9-0
This series shows armored vehicles on the front line with large-format photos.
The eleventh volume is a photo album that shows the various series and sections of the Panthers on all fronts.
The legends explain the technical details of the vehicles.
Format : 30X21.5
Pages number : 105
Pictures number : 112
Language : Polish / English
Color profiles :
Available Price: 30.50 €
Avions-bateaux suggestions :
Panzers in Berlin 1945

68.00€

TTC

German Self-Propelled Guns on the Battlefield (Vol.19)

30.00€

TTC

Sturmgeschütz III and Sturmhaubitze 42

25.00€

TTC

Panzer III on the Battlefield 2 (Vol.18)

30.00€

TTC

T-34 on the Battlefield 2 (Vol.17)

30.00€

TTC

The Red Army on Parade 1917-1945

45.00€

TTC

Panzerwrecks 22: Desert

21.50€

TTC