Bientôt en rupture Price: 19.50 € VAT included 5.50 % : 1.02 €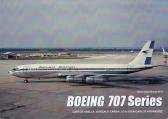 BOEING 707 SERIES.
Release of 15/03/2018
Author:
Carlos Abella, Gonzalo Carballo & Juan Carlos Rodriguez
Edition:
Serie Aerolineas N° 11
ISBN :
9789871682456
This booklet describes the use in various South-American countries of the famous Boeing 707 passenger aircraft : Argentina, Chile, Uruguay, Paraguay, Bolivia and Ecuador. It contains many nice colour photos of the various airlines (and air force) which used it. Very nice and unusual !
Format : 27.5 x 19.5
Pages number : 50
Pictures number : 80
Language : Spanish
Color profiles :
Bientôt en rupture Price: 19.50 €
Avions-bateaux suggestions :
BOEING 737-200 SERIES

19.50€

TTC

OA/A-4AR FIGHTINGHAWK

20.50€

TTC

SU-22 FITTER

19.50€

TTC

De Havilland DH-106 COMET 4.

19.50€

TTC

DASSAULT MIRAGE

20.50€

TTC

C-39 & C-47 SKYTRAIN.

20.50€

TTC

FOKKER F28 FELLOWSHIP.

19.50€

TTC