Bientôt en rupture Price: 20.00 € VAT included 5.50 % : 1.04 €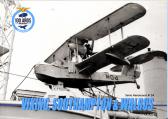 VIKING, SOUTHAMPTON & WALRUS.
Release of 1/07/2016
Author:
Jorge Nunez PADIN
Edition:
SERIE AERONAVAL N°34
ISBN :
987-978-1682-37-5
A welcome add to this series about Argentinian naval aviation which depicts the history of the various flying boats imported from Great Britain : Viking, Southampton and Walrus. Very nice photo material and superb colour profiles with a comprehensive text. Limited edition.
Format : 27.5 X 19.5
Pages number : 46
Pictures number : 72
Language : Spanish
Color profiles : 11
Bientôt en rupture Price: 20.00 €
Avions-bateaux suggestions :
BOEING 737-200 SERIES

19.50€

TTC

OA/A-4AR FIGHTINGHAWK

20.50€

TTC

SU-22 FITTER

19.50€

TTC

De Havilland DH-106 COMET 4.

19.50€

TTC

DASSAULT MIRAGE

20.50€

TTC

BOEING 707 SERIES.

19.50€

TTC

C-39 & C-47 SKYTRAIN.

20.50€

TTC